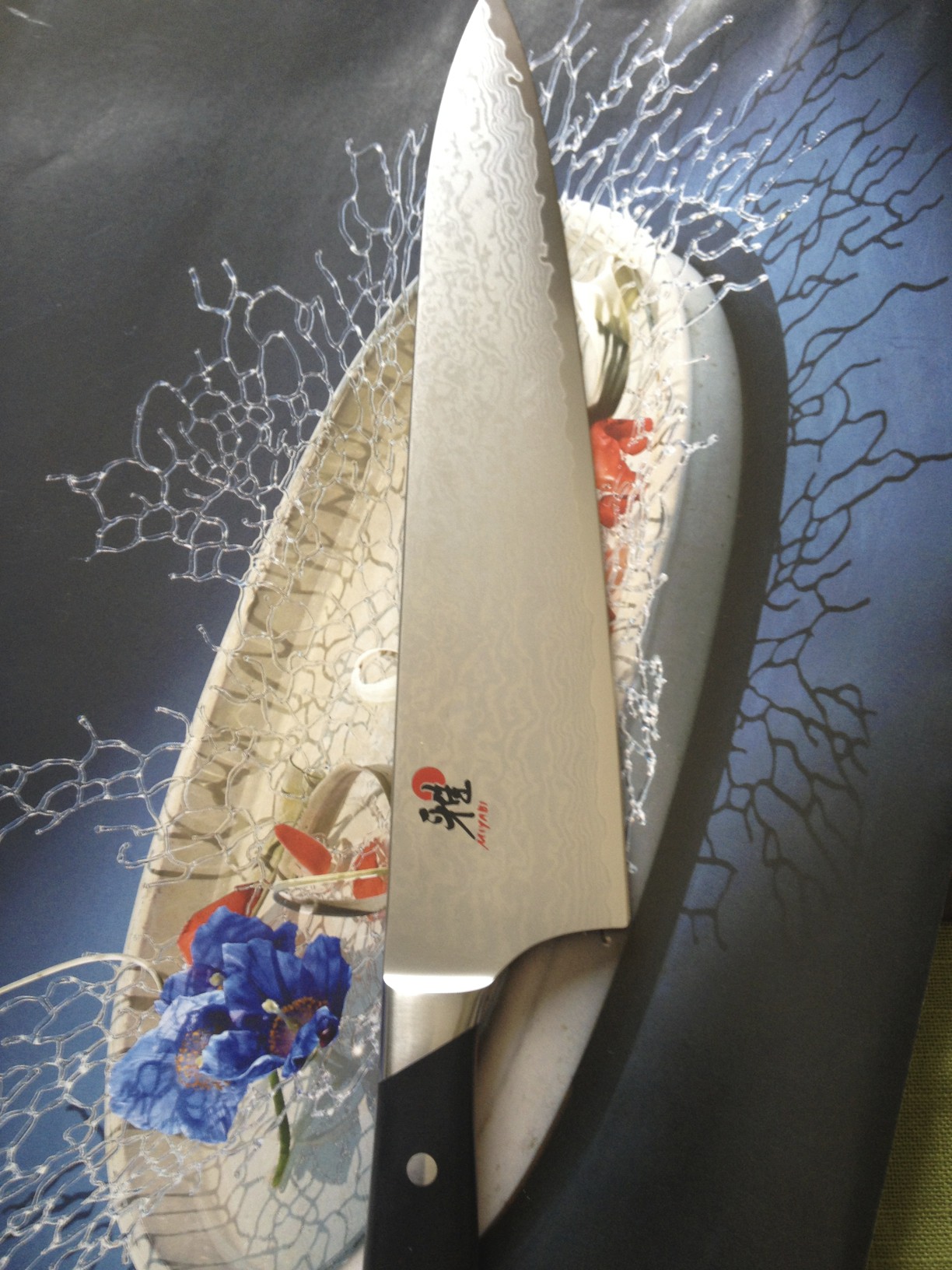 New Edge Sharpening
(Traditional Knife Sharpening)
I  sharpen all brands of kitchen knives. MAC, Global, Wusthof, Henckels, Grohmann, Shun, Maestro Wu and more including the exquisite hand made Japanese knives such as Takeda, Masamoto, Tojiro and  many more.  I also sharpen old knives with the names worn off that have been kept hidden away because they are too dull.
To achieve truly sharp knives I use Japanese Water Stones in a variety of grits using traditional Japanese technique.  Passion, Practice, Persistence and Patience are the ingredients necessary to ensure that my goal is reached with every single knife, I want  your experience in the kitchen to reach a new level, to be enjoyable and something you look forward to every time you reach for your knife. Read below why a sharp knife is so important.
Knife Handles: I now have a very talented individual who has the ability to replace damaged/loose/worn out handles with nice wooden handles. If  this is something that you need done, please email me, prices are reasonable and will vary.
 Testimonials: 
"Every chef cherishes their knives, but being a good cook doesn't mean you can sharpen a knife properly. It is a skill that takes years to perfect. Far worse is letting someone put a knife on an automated machine…it ruins the edge. Hand sharpening is the only way to go. Preparing food with a sharp knife is a true joy. My knives have never been sharper than they are right now…thanks Peter!"
Chef Craig Flinn
Canadian Chefs' Congress 2012 | Congres des Chefs de Cuisine Canadiens
Nova Scotia Committee Chair | Le président du comité de la Nouvelle-Écosse
ECD Restaurants Inc./Fork in the Road Productions
1537 Barrington Street, Halifax, Nova Scotia B3J 1Z4
Chives Canadian Bistro: (902) 420-9626
I trust no one with me knives besides Peter, the quality of work and
craftsmanship behind each knife is incredible,
I have used Peter for the last year and every time he returns a knife is
better than new, is really quite an experience
A true artist...... 

Luis Clavel
-Member of Culinary Team Canada-
Luis Clavel
Executive Chef 
Atlantica Hotel Halifax
1980 Robie Street Halifax, Nova Scotia B3H 3G5
direct tel 902.490.3341
main tel 902.423.1161
fax 902.423.2407
Member of Culinary Team Canada and Manager Culinary team Nova Scotia
"New Edge Sharpening" has become an integral part of Paderno's goal to achieve complete customer satisfaction. Peter's work has restored life to edges that seemed hopelessly dull and made misused and abused knives a joy to use again. What he can accomplish with a quality blade and an hour of his time will startle you if you thought the "factory edge" was the pinnacle of sharpness.
Mr. Malcolm Smith, Manager, Paderno Bayer's Lake Nova Scotia.
"Hi Peter, Just tried a knife on a pork roast and it cut so lovely! luxurious! thank you again"
From Marlene, home chef. 
Peter I used the Forschner knife you sharpened last week for me tonight. I was trimming salmon fillets and I was amazed at how sharp it was. It glided through the fillets with no effort whatsoever and left nice neat edges. Thank you.  Barry C.
From Patrick, Knife Sharpening Student:
  I worked with Peter on this for about 2.5 hrs, Pete said I had it down to a fine science in under an hour as I have been taking lessons from him off and on for over a year now, but wanted to refine my technique using all Japanese stones. I took this knife up to 8000 Grit and she is some fine knife. The selection of Japanese water stone Peter Nowlan has for teaching and for use in his own shop is unreal, he is a perfectionist and every aspect of doing it right but at the same time his teaching methods is laid back comfortable and most enjoyable.
Peter had Japanese flute music going and treated me to very nice Japanese tea, I think it was green tea but very nice indeed

The shop is on Quinpool Road (The ikebana Shop)and is all about Japanese culture, lots of books on cooking, sushi cook books are stunning, many nice crafts and best if you want to learn the art of Ikebana, Flower arrangement then this is the place not to mention my Favorite is working with a Master at his craft of knife sharpening Mr Peter Nowlan to whom I would recommend lessons or having your own kitchen / Chef knife sharpen by in a heartbeat.