Welcome To My Business!
Thank you for finding me. I am extremely passionate about knife sharpening, if you love your knives and appreciate and long for them to be sharp again you have found the right man. I am dedicated to  bringing you satisfaction by startling you with edges that you want and need. Knife sharpening has been something that has fascinated me for over 30 years, I've learned a lot in that time and promise you that I will do my utmost  to make you love your knives again.
Call me: 1.902.225.0579 (If you have contacted me via my website and I have not returned your email, it may be because you didn't leave a return email. Don't hesitate to try again or call me. It's important to me.
Customer satisfaction is paramount, your knives are important to me, I understand what a sharp knife means to people and how it enhances your life in a kitchen:
I use Japanese Water Stones (These are my dream water stones, that have taken me years to choose and to collect)
Quick Turnaround -one or two days, unless extremely busy. 
I'm very approachable and friendly, I love talking about knives and how I sharpen them.
You'll be thrilled with your knives, it happens every day.
You will get more than you paid for, believe me. 
A razor sharp knife in your hands is an elegant instrument, elevating ambition. A dull knife is a piece of steel, dampening creativity.
NOTE

: Due to the overwhelming response generated from the article in the Chronicle Herald the turn around time has increased. I refuse to compromise the integrity of my work by taking any shortcuts. Your knives will be treated with the same care and respect as if it were the only knife/knives I have to sharpen.  Please expect a 5-7 day turnaround until I catch up. Your patience will be rewarded with the sharpest knives you have ever used. Thank You.
TESTIMONIALS (Please see the Chronicle Herald
article at Link on this page)
"I have entrusted my personal chef's knives, as well as all the knives at both of my restaurants, to Peter for several years. Not only is his knowledge and skill set unparalleled in the world of knives, his customer service, attention to detail, and generosity is truly awe inspiring. I would trust no one else sharpen my sacred knives ever again.
Craig Flinn
Executive Chef/President
Chives Canadian Bistro
2 Doors Down Food + Wine
Pete Nowlan from New Edge Sharpening is one of the most dedicated craftsman I have ever met. His passion for putting a fine edge on a fine knife is unparalleled in Eastern Canada. I love my knives - they have been a part of my professional life for decades - and I would only trust the edges on my Misonos and MACs to Pete. He truly wants you to be happy with his work. Highly recommended
I trust no one with me knives besides Peter, the quality of work and
craftsmanship behind each knife is incredible,
I have used Peter for the last year and every time he returns a knife is
better than new, is really quite an experience
A true artist......
Luis Clavel
-Member of Culinary Team Canada-
Luis Clavel
Executive Chef
Atlantica Hotel Halifax
1980 Robie Street Halifax, Nova Scotia B3H 3G5
direct tel 902.490.3341
Member of Culinary Team Canada and Manager Culinary team Nova Scotia
As you can see from his blog and his work, Peter is obsessed with
knife-sharpening. He will spend an hour or more on a knife if he thinks it
needs it. He will treat a crappy old K-Mart knife with as much care,
concentration, skill, and even reverence as if it were a Japanese
Masakage.
964 Main Street, Port Williams
I call Mr. Peter Nowlan the chef's best friend. As an Executive Chef, I believe a sharp knife is the key step to trigger good food, precision cutting can change how every ingredient cooks during the process. When I first met Mr. Nowlan, I was searching for someone who would be capable to sharpen a knife with Rockwell 66 hardness properly with good craftsmanship, a person who understood knives and in particular the importance of a sharp knife. Peter's quality of work is an incredible work of art and he will be the only one I will trust to sharpen my knives for years to come. Sharp knives makes food cutting enjoyable, Mr. Peter Nowlan's sharpening skills makes my work as an Executive Chef not just more enjoyable but more efficient.  
Ivan Chan
Executive Chef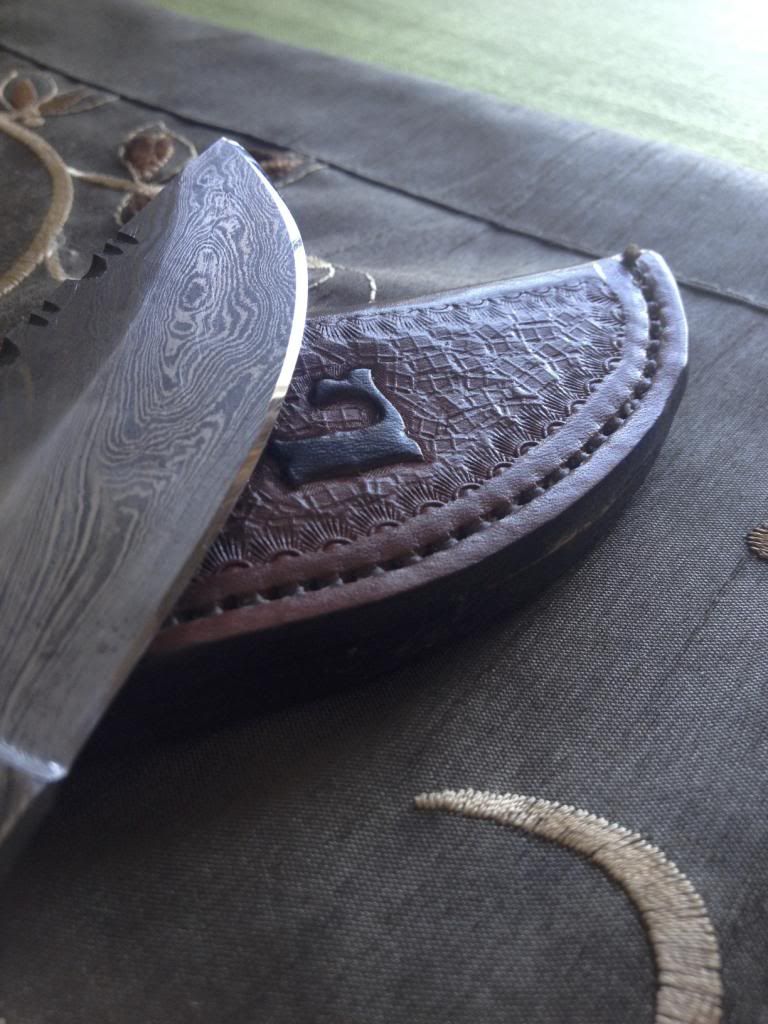 The knives above are sharpened to an elevated refinement level when compared to 
a kitchen knife edge. So I can have fun with these, and go up to 16,000 grit to get that beautiful
mirror finish and a nice sharp edge.  I think it is important to return the knives not only sharp but
something to be proud of, something you would like to display.