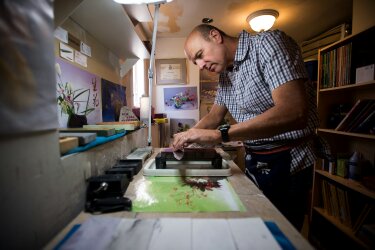 Welcome to my Website, thank you for finding me.This is your first step to having your knives sharp again and keeping them sharp. Good for you, there is absolutely no need to work with dull knives, it's dangerous and it it has a negative impact on the flavour of food. You have come to the right place, I am extremely passionate about the art of sharpening knives by hand on Japanese Water Stones.  Hopefully my Home Page here and my Blog with a sharpening video and a link to the Chronicle Herald newspaper article about me will help ease your apprehension in letting a stranger work on your knives, I know that is a difficult choice. Also, I realize that my site is not always at the very top when Googled, however, I don't pay anyone to place my site in an elevated position like other sites. So again, thanks for finding me. I truly, and I mean truly, appreciate your business. I know it is tough to trust someone with your knives but you won't be sorry. 
Please Note that over to the right under "Blogroll" is a list of links to many articles and videos on knife sharpening. The first link is to my Blog which I keep updated with a lot of cool info and pictures. 
LIFEHACKER: My latest video which demonstrates pressure adjustments has been published on Lifehacker, one of the largest websites and most popular Blogs in the world, the Link is just to the right under Blogroll.
(My Interview with Ron Kronstein of Global News is over on the right under in the Blogroll)
One of the things that I know for sure is that when you purchase a knife, you should make the purchase with the understanding that you need a Plan to keep it sharp. Regardless of the price or brand of knife, it will become dull and sooner that you may expect. That incredible sensation you felt when it was new will vanish and you will be left feeling frustrated, cheated perhaps and stressed out every time you use that knife that has  become dull. YOU NEED a Sharpening Plan to keep that beautiful knife not just as sharp as it was when new but sharper, you never need to experience a dull knife again, this is what I do, I have the ability to keep your knife sharp regardless of the cost/brand/condition.  
Call me today: (902) 225 0579 or Email at sharpenerpeter@gmail.com
Three things are paramount to me: Creating edges on knives that you have never seen before,  establishing your trust in what I love to do and forging a  Sharpening Plan for you so that you never need to experience dull knives again.  I promise:
To make your knives sharper than new or better;
Relatively quick turnaround of three to five days, (often less);
Incredibly friendly and easy approach:
To make you understand that a razor sharp knife is an elegant instrument cultivating culinary creativity, a dull knife is piece of steel, dampening ambition.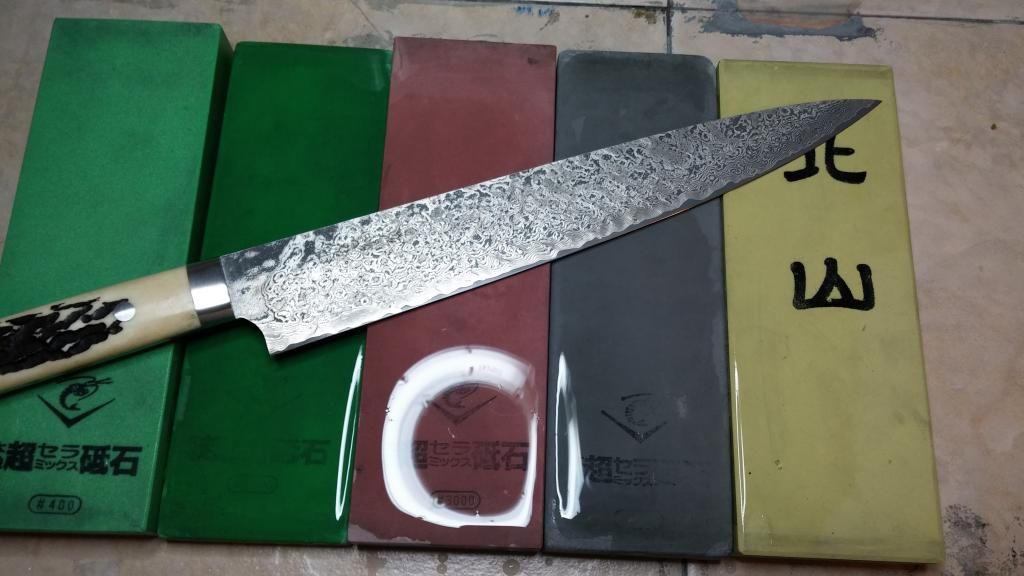 What I DO NOT sharpen:
Axes, saws, exotic blades, swords, machetes. I'm a kitchen knife specialist, I sharpen thousands of them. It took me years of practice to become as confident as I am with sharpening kitchen knives, my business is successful because people trust me, I've made my customers happy. I don't sharpen certain items because I have not had the opportunity to sharpen a knife from a movie that someone picked up online for example. If I cannot sharpen anything to the extent where I am thrilled with the results, I won't sharpen it. This is why I stick to kitchen knives and folders. (This is not to say I can't sharpen them, they are out of my comfort zone, your complete satisfaction is of utmost importance to me)
TESTIMONIALS
I sharpen knives for many people including some very nice and extremely talented Executive Chefs, Chefs and Cooks and JUST as importantly: Home cooks, the great folks who bring me knives to sharpen every single day.  Here are a just a few of the kind words that people I have sharpened for, some for a few years have said about my knife sharpening. Please note that while these Testimonials are important to me and may ease your apprehension about handing me your knives to sharpen, I really encourage you to just contact me and ask me how I sharpen knives and tell me what your are hesitant about.  I get a lot of very nice comments by email and texting that I don't have the room to place here. The best way to find out if I am the right person to take care of your knives is to give me one. If you are still afraid to hand over your beloved knife, ask for a free demo, I will sharpen any knife in front of you if that is what it takes to earn your trust and ultimately to have you working with sharp knives again.
(By the way, I get kind words from folks quite often, I would be constantly updating my Testimonial page if I included every one of them. To those who have provided me with feedback, you cannot imagine how important that is to me, thank you)
 (There are some additional testimonials off to the side on this page)
Hello Peter,

 

I want to take the time to say that it was a pleasure to meet you. I was really impressed by your technique and your passion. Thank you so much for saving my knife, I was sure it was beyond repair! I will definitely contact you again. 

 

Executive Chef

Normand Laprise CM CQ

Owner of Togué, Montreal.
Peter Nowlan from "New Edge Sharpening" is one of the most dedicated craftsmen I have ever met. His passion for putting a fine edge on a fine knife is unparalleled in Eastern Canada. I love my knives, they have been part of my professional life for decades - and I would only trust the edges on my Misonos and MACs to Pete. He truly wants you to be happy with his work. Highly Recommended.
Michael Howell
Executive Director- Devour Fest! The Food Film Fest - www.devourfest.com
Executive Chef - The Green Turtle Club - www.greenturtleclub.com
Principal - Tempestuous Culinary - www.tempestous.ca
chefmhowell@gmail.com
"Every Chef cherishes their knives, but being a good cook doesn't mean you can sharpen a knife properly. It is a skill that takes years to perfect. Far worse is letting someone put a knife on an automated machine....it ruins the edge. Hand sharpening is the only way to go. Preparing food with a sharp knife is a true joy. My knives have never been sharper than they are right now, thanks Peter!"
Chef Craig Flinn
Canadian Chefs Congress 2012/Congres des Chefs de Cuisine Canadiens
Nova Scotia Committee Chair/Le president du comite de la Nouvelle-Ecosse
ECD Restaurant Inc/Fork in the Road Productions
Chives Canadian Bistro and 2 Doors Down 
"The only thing more valuable than my hands are my knives. That is why the only person who sharpens my knives is Peter Nowlan. His skill and passion for blades is remarkable. I would recommend to anyone who wants the best for there blades take them to Peter. You won't be disappointed
Cheers."

Jason Lynch
Chef
www.grandprewines.ns.ca
www.theblackspruce.ca
902-542-7177 ( w )
902-680-6272 ( c )
Hi Peter, I am amazed at the performance of my knives, thanks a lot once again, you are a true craftsman.
J.F. Dore,
Owner of great knives, Takeda, Fujiwara, Saji etc. in Montreal. (April 17)
(I was recently sent over 20 knives from a very well known restaurant in Quebec, here is what they said):
Peter, 
"You are amazing!! thanks a lot for your kindness, all the cooks are really happy about their knives"
Émilie P.
All the team from
Poivre Noir
Trois-Rivières, Québec
Oct 16
Peter. 
Fantastic job!!!! They have never been this sharp. I appreciate your passion for the job and will certainly be having you back and recommending you as well .
Executive Chef Richard
Luckett Vineyards - May 16
"As you can see from his Blog and his work, Peter is obsessed with knife sharpening. He will spend an hour or more on a knife if he thinks it needs it. He will treat a crappy old K-Mart knife with as much care, concentration, skill, and even reverence as if it were a Japanese Masakage".
Ross Patterson
The Noodle Guy
Main Street Port Williams
NS B0P 1T0
The Noodle Guy Pasta Restaurant
Port Williams, Exit 11.  
      We couldn't be happier with the work you did on our knives!! It is amazing how having tools that are that sharp can just put everyone in the kitchen in such a great mood. We had a VERRY busy night and even when we barely had time to wipe the sweat off our face, we couldn't stop talking about how sharp the knives were. Amazing work!
Chef Luke G.
The Highwayman Restaurant, Barrington Street, Halifax NS. (June 16)
"I had some shared kitchen knives that were in desperate need of some knife-love but couldn't make the time to take care of it myself.  A colleague passed me Peter's number, as they had seen his work first hand, and knew that I would not be dissapointed.  The only way to describe  Peter's passion for a true edge is  art.  I have never been more pleased with the quality and care that Peter gives each one of my knives, plus he's a great person to work with!"
-Ryan Hayes
Chef/Co-owner
Resto Urban Dining
Peter,
Just wanted to drop you a line to tell what a great job you have done with my knives.
Because we couldn't make to Halifax last spring,
I had my German ones done  in XXXX and they did not come close to being that refined.
Needless to say you are the only person that I have ever left to sharpen my Japanese knives.
I don"t know if you changed anything but they even seem sharper than the last time you did them.
It is nice to be able to benefit from your passion of sharpening.
 Rod. Cape Breton (Apr 17)
"I call Mr. Peter Nowlan the chef's best friend. As an Executive Chef, I believe a sharp knife is the key step to trigger good food, precision cutting can change how every ingredient cooks during the process. When I first met Mr. Nowlan, I was searching for someone who would be capable to sharpen a knife with Rockwell 66 hardness properly with good craftsmanship, a person who understood knives and in particular the importance of a sharp knife. Peter's quality of work is an incredible work of art and he will be the only one I will trust to sharpen my knives for years to come. Sharp knives makes food cutting enjoyable, Mr. Peter Nowlan's sharpening skills makes my work as an Executive Chef not just more enjoyable but more efficient".  
Ivan Chan
Executive Chef 
Hi Peter,


We are really thrilled with the job you did with the knives. Thank you so much. We weren't sure what to expect, but we are truly happy. You are a craftsman!
If you need any references, we'd be happy to pass along. We will definitely be back in the future (hopefully, without any broken bits, just dull blades).
Sincerely,
Tara (Ontario)